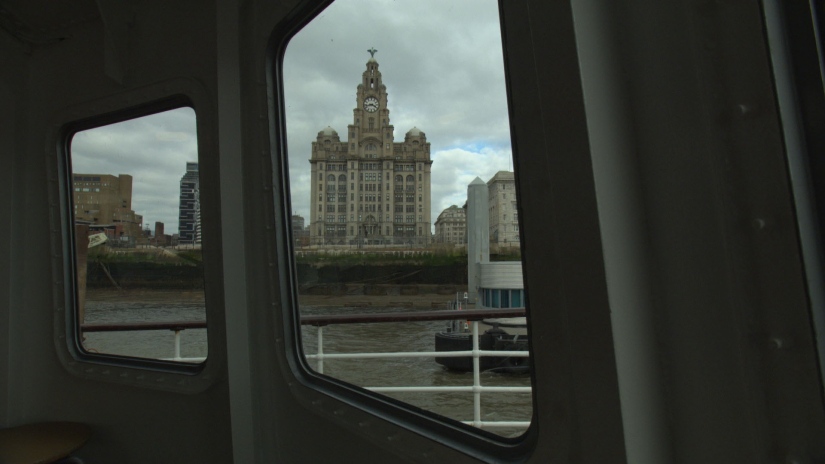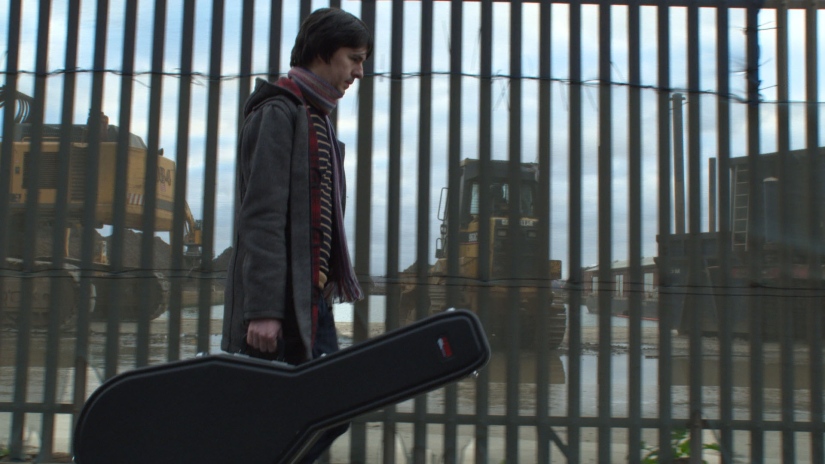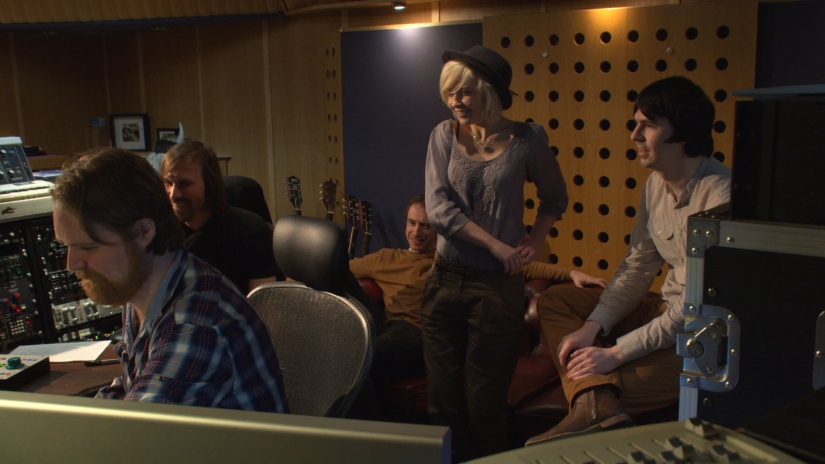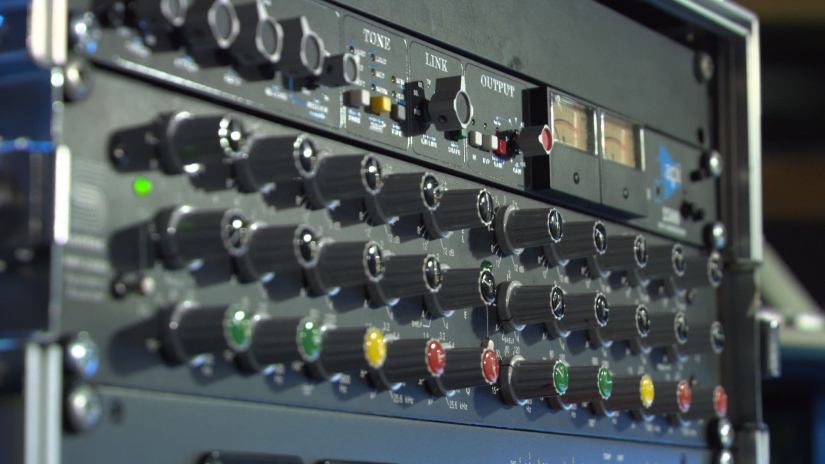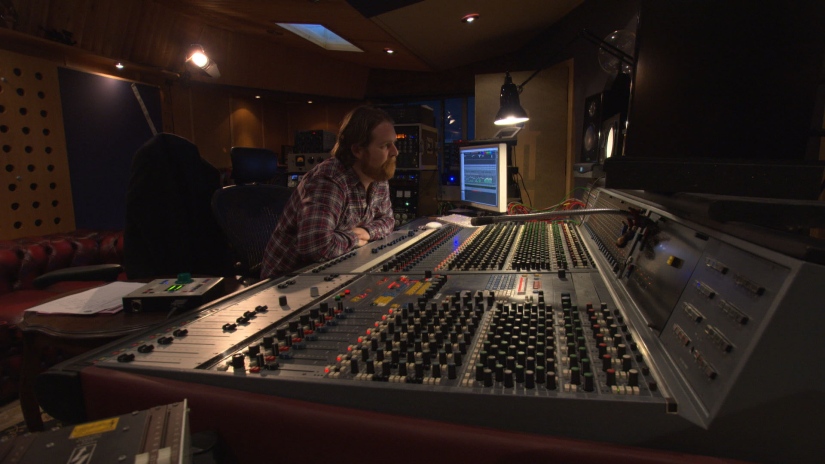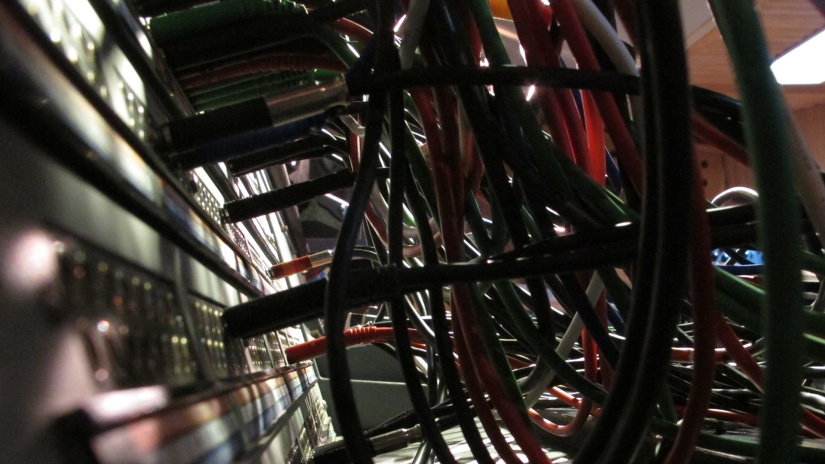 All the way back to Liverpool - as the title suggests - is a journey. The documentary follows a group of musicians and friends as they write, rehearse and record new material to a strict three day deadline.
It catches the creative process of making a record - how the initial idea for a song is developed through collaboration and improvisation - and how it changes once recording sessions start.
All the way back to Liverpool also showcases the work of award winning producer Mike Crossey (Arctic Monkeys, Jake Bugg and Razorlight.) How structuring, directing and setting the tone of the sessions allows him to record quickly, while maintaining an uncompromising attitude to quality.
However, what sets it apart from other documentaries is that it's based around a group of working musicians - rather than being a promotional device for a big-name artist. In doing so it throws light on the reality of life as a musician in the post-download age - where a lack of record company investment often means holding down a steady job, sacrificing family time and regularly having to complete 20 hour working days.
The film documents the musicians' lives in Liverpool away from the recording studio - with footage of rehearsals and 'Open Mic' nights painting a broader picture of the city's music scene - as they talk about the role music has played in their lives and the lasting friendships it's created.
All the way back to Liverpool was made by german filmmaker/musician Chandra Fleig - who studied at the Liverpool Institute of Performing Arts at the end of the 90s - and was filmed in the city over ten days - including three at the iconic Motor Museum Studios.
Partner
University of Film and Television "Konrad Wolf" Potsdam-Babelsberg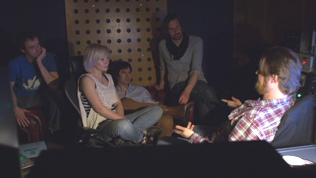 trailer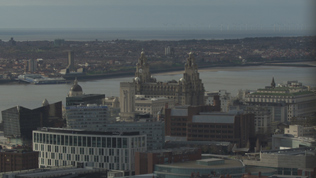 episode 1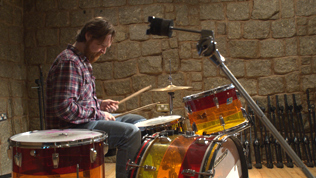 episode 2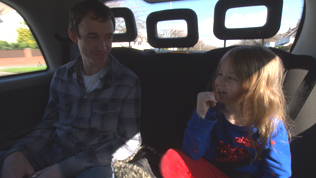 episode 3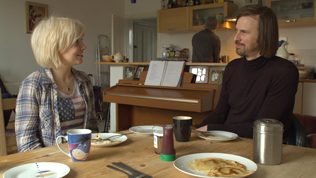 episode 4
episode 5 preview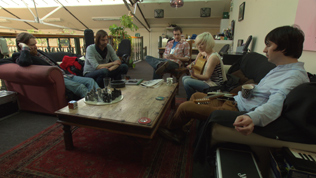 episode 6 preview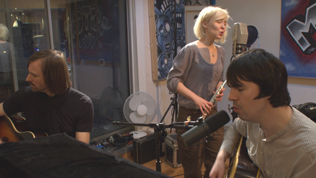 episode 7 preview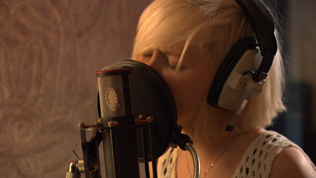 episode 8 preview
episode 9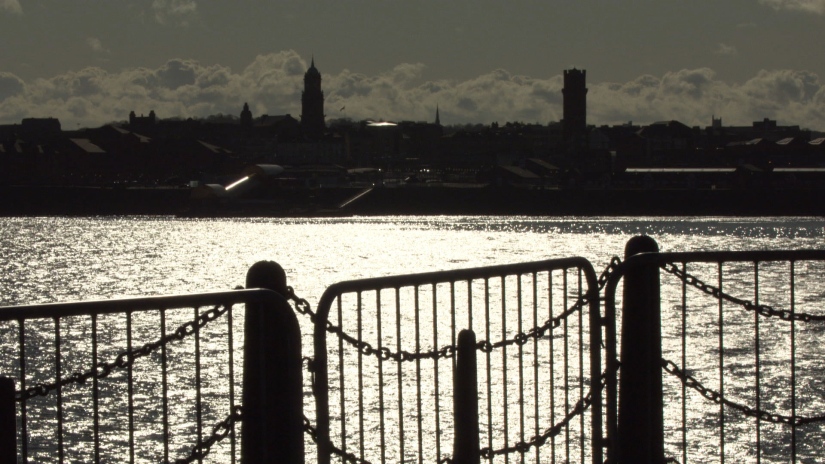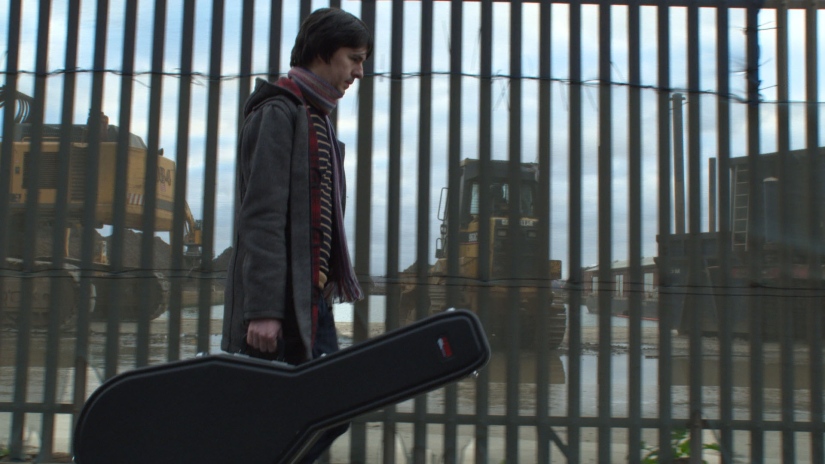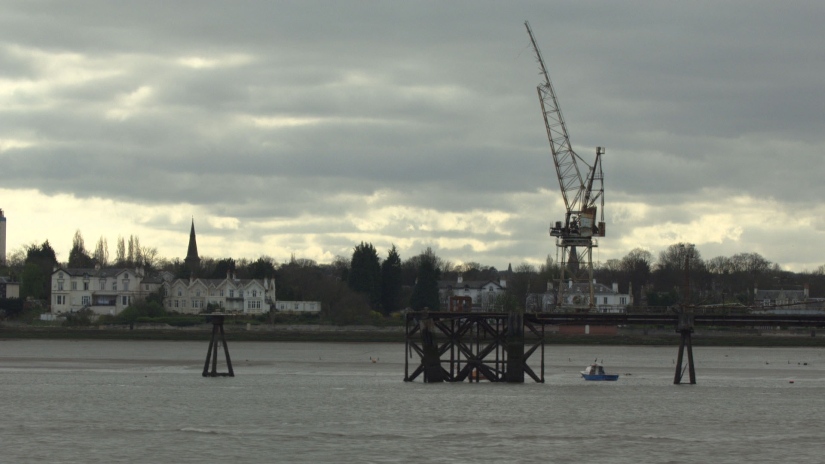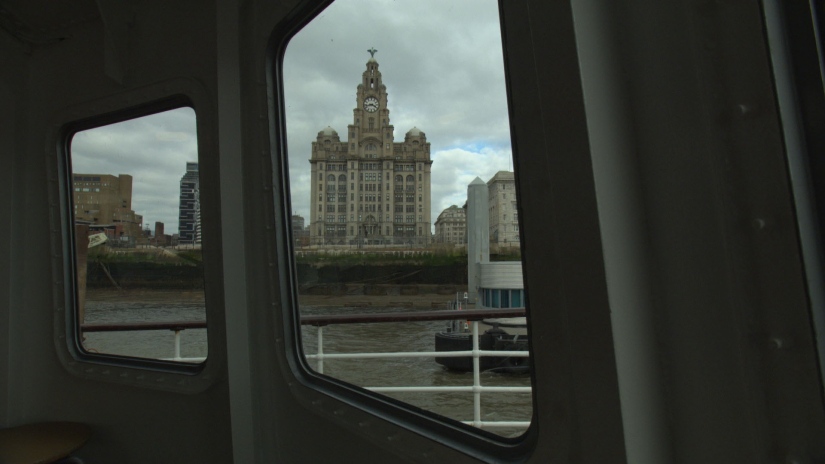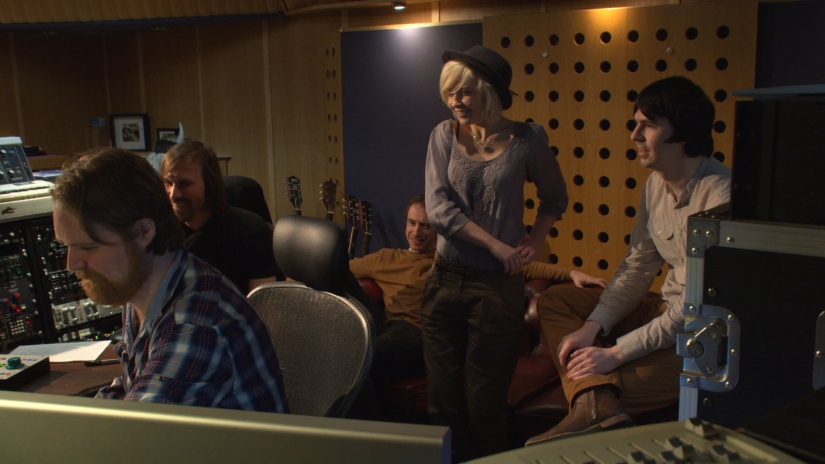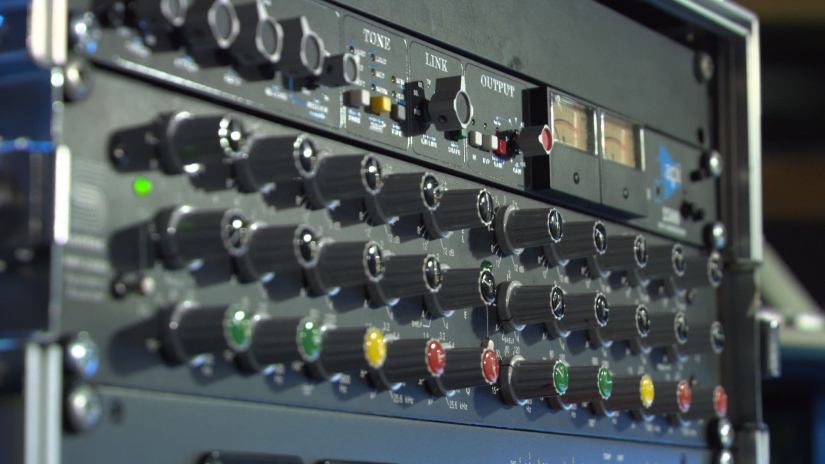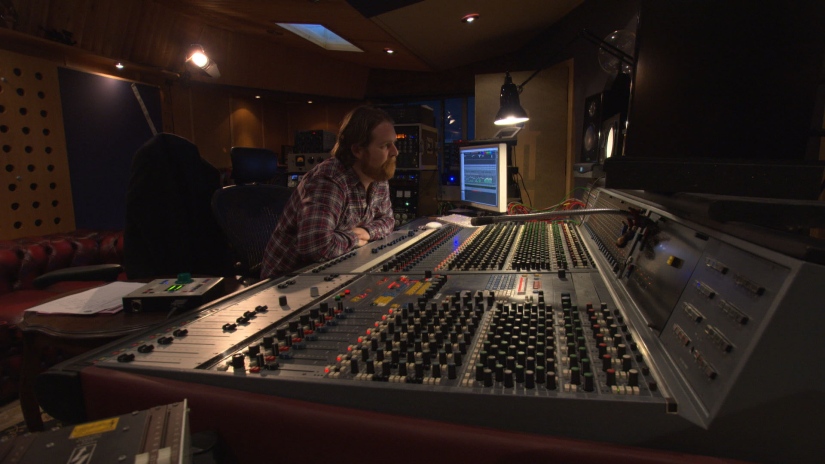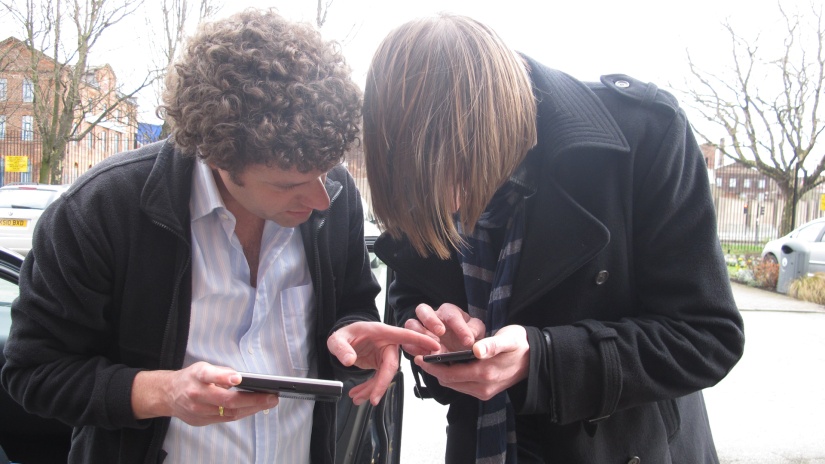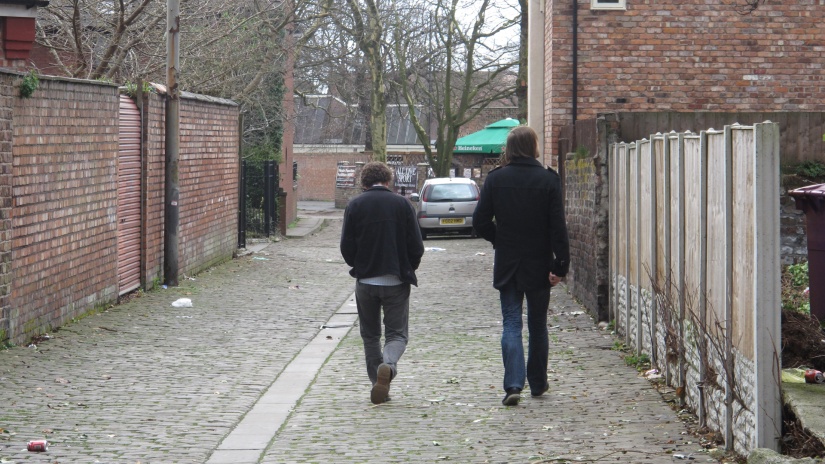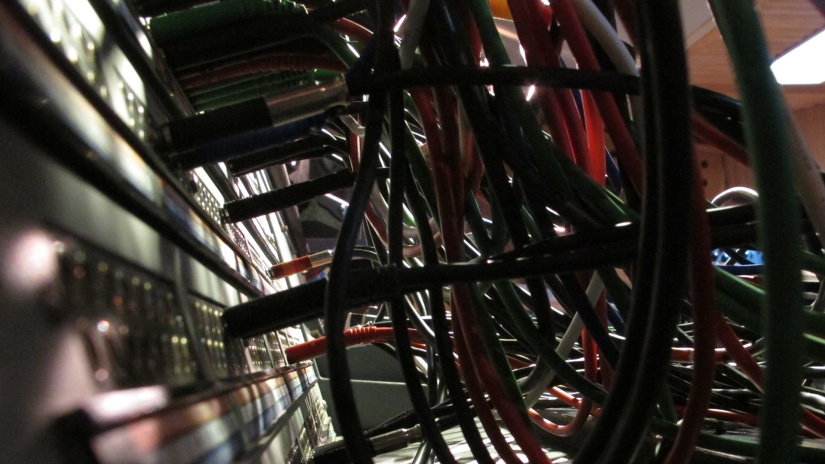 Mike Crossey
Having begun his craft in his early teens – putting on underage "bring your own gargle" gigs in his hometown of Belfast and learning the ropes of the sound desk along the way – he soon began recording local bands and building up his repertoire, both as a skilled hand and a discerning ear. The early start soon began to pay off. After graduating from a Creative Sound Engineering course at Liverpool's prestigious Institute for Performing Arts, he stumbled upon a promising group of Northerners playing at Manchester's Night and Day Café and offered to record their debut EP. That band was the Arctic Monkeys and they, by all accounts, ended up doing pretty OK. Mike has racked up a host of notable production and mixing credits since then. He recently took the helm on Jake Bugg's self-titled album which debuted at #1 on the UK Album Charts which was recently certified platinum and has racked up another hit with The 1975′s "Chocolate". His previous production work has included artists such as Foals, Tribes, The Kooks, Blood Red Shoes, and Razorlight.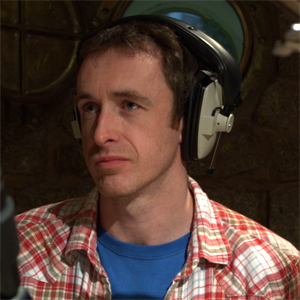 Ian McMillan
Ian grew up in Liverpool and learned playing drums in his early years when he was a kid. Being always supported in his musical ambition by his family, his drumming progressed steadily. Over the years he developed his own unique drumming style - influenced by musicians such as Levon Helm from The Band. Maca played in various Liverpudlian bands and projects - performing in major European cities such as Berlin, Oslo, Rome and Naples and supported the Happy Mondays, The Zutons and The Farm at the Leeds and Knowsley festival. After disbanding his band project The Aeroplanes in 2010 he refocused his aims and is currently working, recording and writing songs with young singer-songwriter Jack Murphy Barton.
Lucy Styles
Lucy is an exceptionally talented singer-songwriter and performer, who started her career at the age of just of fifteen – when she was discovered and supported by musician, songwriter and record producer Andy McCluskey (OMD) at Liverpool's Motor Museum Studio. Since then she continued to develop and grow as writer and studio musician - mastering technical production skills that have enabled her songwriting and performing to rise to another level. Lucy regularly performs around North West England as a solo artist and with her band Lou Lu and the Boy. Her material covers a vast range of different styles and emphasises her originality as a writer – and her unique and extraordinary talent as a performer and multi-instrumentalist. These skills have already made Lucy a must-see performer with the potential to become a major music star.
Paul Crowe
Starting out as a teenager with a love for all things rock and roll music, he began learning the ropes playing the local circuit with a band schoolmates at the tender age of 14. Building up a catalogue of covers and showing an ability for writing his own material he followed a path first carved out by his heroes such as Van Morrison, The Rolling Stones and The Beatles. The early graft paid off when forming The Aeroplanes who went on to release a run of crititcally acclaimed recordings, featured on Hollywood soundtracks and toured all over the world until they disbanded in 2010. After recharging his musical batteries, Paul put together current band The City Walls who released their debut EP in 2012 to positive reviews and are about to release a double A side single in late 2013.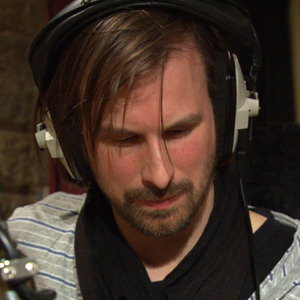 Chandra Fleig
Growing up listening to and being inspired by music from bands such as MC5, the Troggs, Jimi Hendrix, The Kinks, The Beatles, Bob Dylan and the movie soundtrack of Easy Rider Chandra wanted to become a musician at the age of nine. Ever since he's been playing in bands of various styles including: funk, soul, indie, jazz, experimental and rock music - as guitar player and lead singer. After successfully completing his studies in Popular Music and in Sound Technology at Paul McCartney's Liverpool Institute for Performing Arts in 2001 he moved to Berlin to be part of the city's growing creative scene. In the last fifteen years he has composed and produced music and soundtracks for film, TV, advertising and the music industry including appearances at international film festivals and on German television. Alongside his musical career, Chandra has worked for many years in audio and video production and started developing the idea for All the way back to Liverpool in 2003.
Thomas Bergmann / cinematography
was born in Münster in 1977. He sucessfully finished his studies in Communication Design in Stuttgart and Cinematography at the University for Film and Television 'Konrad Wolf' in Potsdam-Babelsberg. His films have been screened at various international film festivals, including the International Documentary Filmfestival Amsterdam, the International DOK-Festival Leipzig and the Chicago International Documentary Festival. Thomas is based in Berlin and is momentary preparing his next film project, which will be filmed in Chicago at the end of this year.
Conny Albrecht / editing
was born in Leonberg in 1974. She first started to work as a costume assistant for film at the Filmakademie Ludwigsburg and then began to work as an assistant editor for film, tv and advertising film companies. She sucessfully finished her studies in Editing at the University for Film and Television 'Konrad Wolf' in Potsdam-Babelsberg in 2007. Until today she is working as a freelance editor for documentary and experimental film and as a lecturer for film editing. Conny currently lives and works in Berlin.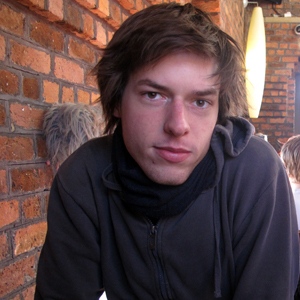 Christoph de la Chevallerie / sound
was born in Berlin in 1990. After finishing an internship at the Media Factory Berlin he began to work as a live sound engineer at the "DT Theater in Göttingen". Ever since he has started his studies in Sound the University for Film and Television 'Konrad Wolf' in Potsdam-Babelsberg, he has been working in the field of loaction sound recording, audio post and music production for film, documentary and animation film. Additionally since 2012 he started to work as a live sound engineer for German national radio station Deutschlandradio Kultur.
Starring
Mike Crossey / Lucy Styles / Paul Crowe / Ian McMillan / Chandra Fleig
Team
Directing & Production: Chandra Fleig
Cinematography: Thomas Bergmann
Editing: Conny Albrecht
Sound: Christoph de la Chevallerie
Studio Assistant: Morgan Price
Catering & Best Boy: Tom Fuchs
Many thanks to
the whole "All the way back to Liverpool" team and my family Ruth, Horst, Andrea und Nolan Fleig
Production Manager
Holger Lochau
Music Clearance
Milena Fessmann
Title Animation
Mathias Wesselmann
Color Grading Trailer
Hanno Moritz Kunow
Internet Site
Rene Gauding
Editorial
Joe Norman
Special thanks to
Andy McCluskey, Peter Badel, Stephan Krumbiegel, Jamin Benazzouz, Till Erdtracht, Tom Fuchs, Manfred Hirner, Ralf Gründer, Ulrich Brylla, Eva Müller, Sheila McMillan, Leah McMillan, Jack Murphy Barton, Stefan Römer, Konrad Herrmann, Mike Kinas, Ingmar Trost, Uli Reuter, Astrid von Gliszczynski, Conny Pawletta, Uli Kunz, Martin Bömer, Anel Kulauzovic, Oliver Holz, Robert Gräf, Nadja Jankowski, Katrin Dorner, Astrid Kaulfuß, Martina Liebnitz, Kerstin Barkmann, Julia Diebel, Darren Jones, Roy Turnhama, Louisa Roach, study path Sound and Cinematography at University of Film and Television "Konrad Wolf", 25p Media Group, Siobhan Paine at The Miloco Studios, Gateacre School Liverpool and the whole University of Film and Television "Konrad Wolf"